Automation and outsourcing have been blamed for putting a lot of people out of work.  Ironically innovation is what produces wealth and creates jobs. 
Technological innovation is linked to three-quarters of the Nation's post-WW II growth rate. Two innovation-linked factors – capital investment and increased efficiency – represent 2.5 percentage points of the 3.4% average annual growth rate achieved since the 1940's.
In addition, innovation produces high-paying jobs. Average compensation per employee in innovation intensive sectors increased 50% between 1990 and 2007 – nearly two and one-half times the national average.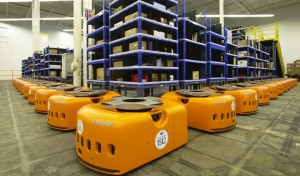 Unfortunately many of the workers put out of work by innovation don't have the education and skills to do the new jobs created and therefore don't have access to these high-paying jobs. Instead their former jobs with middle class wages are now obsolete and can be performed by workers half-way around the world or by machines for a fraction of the cost.
The poster child for this scenario of course is manufacturing.  No industry has been hit as hard as manufacturing when it comes to technology and outsourcing.  But despite the recession, manufacturing is creating jobs. It's just that jobs being created by automation and globalization require very different skill sets than those made obsolete by change. As recently as the fall of 2011, a study by Deloitte and the Manufacturing Institute found that U.S. manufacturing companies have as many as 600,000 jobs that go unfilled because companies cannot find workers with the proper skills.
For example, Amazon.com recently announced it was acquiring Kiva Systems, a warehouse-automation systems company, for $775 million.  This undoubtedly will end up costing the economy more jobs. Instead of hiring more human warehouse workers to meet growing demand, robots (manufactured by Kiva) will locate items and transport them to workers to pack and ship. This change will help Amazon lower labor costs and improve accuracy.  Essentially these robots will make up a significant demographic in Amazon's future workforce.
But robots aren't created by adding water to powder. Nor are they maintenance free.  That could be the reason that the number of online help-wanted ads seeking robotics expertise shot up 44% in the first two months of 2012 alone, according to research firm Wanted Analytics. Engineers, the most of any occupational field, experience a 51% year-over-year increase. Technology related jobs that required robotics skills increased as well, up 66% from January 2011.
That growth has created a widening chasm between the supply of career line workers and the demand for workers who can operate PLCs, programmable logic controllers. The irony of this situation is that the industry associated with the highest job losses (auto manufacturers) are now scrambling to find robot engineers and technicians.  Unfortunately for many of the laid-off workers, the jobs they left in 2008 no longer exist. And the skills they have used for 20 or 30 years no longer apply. Even when the auto manufacturers are looking for workers, they can't just hire back former employees.
Cloud computing is another innovation that gets blame for a loss of jobs. And yet this industry is creating millions of new jobs too. 
Global tech research and advisory firm IDC says by the end of 2015 almost 14 million new jobs will be created by the shift to public and private cloud services. Unfortunately most of those new jobs will be outside the U.S. and Canada, although North America will get 1.2 million new jobs, most of them in the U.S.
How does innovation that displaces workers create new jobs? The time and money now spent managing in-house systems will be freed up for other projects. New business innovation, which leads to business revenue, leads to more job creation. Rather than eliminate IT jobs, the migration to cloud computing will create new different jobs.
The Deloitte survey also found 5 percent of current manufacturing jobs are unfilled due to lack of qualified candidates, 67 percent of manufacturers have a moderate to severe shortage of qualified workers, and 56 percent expect the shortage to increase in the next three to five years.
Nearly two in three manufacturing executives surveyed say workforce shortages or skills deficiencies in production rolls are having a significant impact on their ability to expand operations or improve productivity.