Based on a quick survey of career pages on company websites, management and HR apparently haven't gotten the message that qualified workers and quality hires are difficult to find despite sustained high unemployment. In an environment where top performers are in demand and have a choice where they work, job applicants shouldn't be treated as 2nd rate citizens.
Following several recent presentations for CEOs and during conversations with small business owners, I realized that the short-sighted recruitment strategy of treating job applicants different from customers was not intentional. When you see an individual lean back in his chair with the proverbial light bulb glowing above his head, it becomes readily apparent that many very smart people still consider recruitment and marketing two distinct and separate functions.  As a result many managers just don't know what to do and the advice they are getting (or heeding) from recruiters and HR isn't effective or compelling enough to get them to say "aha, I get it now."
As the old adage goes, pictures are a worth a thousand words. So I started out on a journey to find a business that is doing everything right marketing to customers and a horrendous job recruiting employees. The task wasn't difficult as a friend referred me to a fast-growing sophisticated, upscale clothing retailer who is missing the recruitment boat.
Here are a few screen shots you might see if you found your way to their website after a Google search for the hottest fashion accessories or clothing.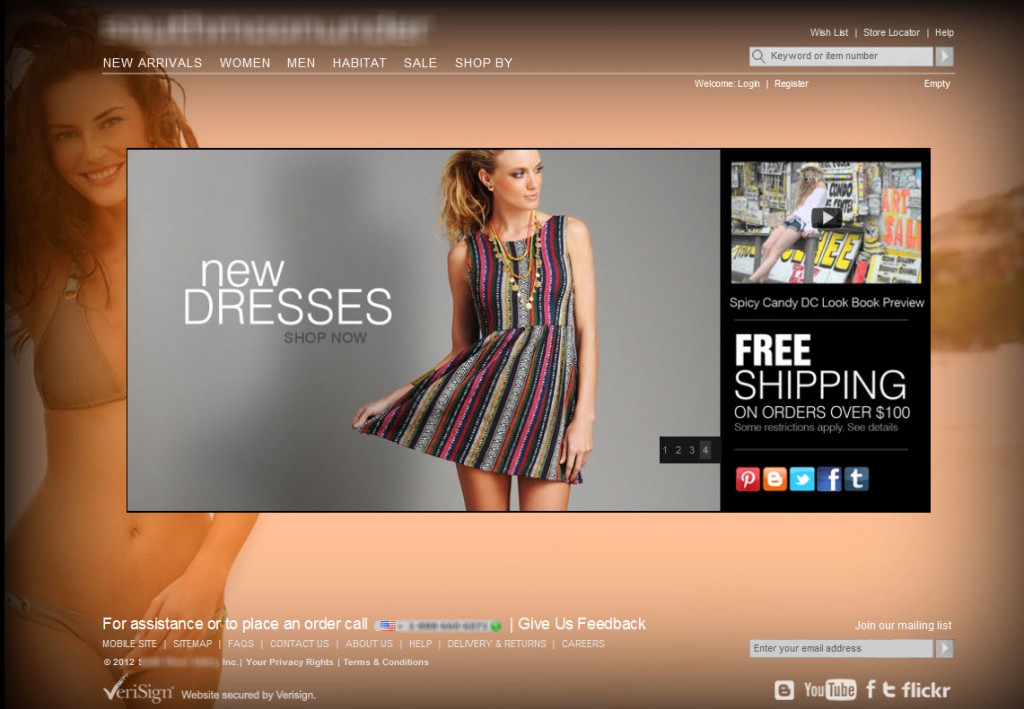 The site has great eye appeal. It's clean and easy to navigate. They offer multiple calls to action, including the opportunity for customers to leave their name on a mailing list.  They create additional incentives to buy with "free shipping." And their marketing message invites customers to engage with them using multiple social networking sites.
If I'm interested in making a purchase, I click on "Men" and search their inventory.  When ready to buy, I can "add to cart" and complete the transaction. It's as simple as 1-2-3. If I'm interested in learning more about what other customers say, I can visit their social networking sites or click on "reviews" at the bottom of the page.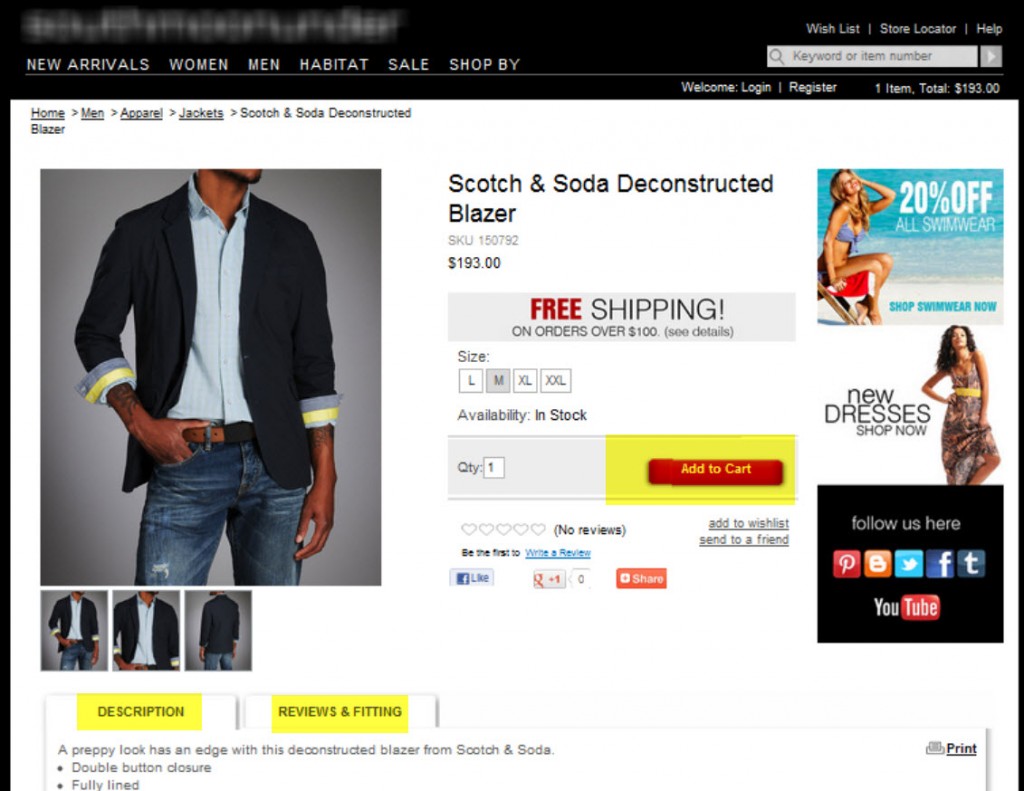 But let's say I'd like to apply for a job at this business.  Good luck finding the careers page.  The only tab, button, or image leading me to a career with "endless possibilities" is on the bottom of the page – the 7-letter word "careers" buried in the footer menu. For a company in the market for job applicants with "strong leadership skills," "excellent communications skills," and a passion for "delivering a strong product and services" who also fit their unique culture, they don't make it easy to apply. (By the way, what company doesn't want those same characteristics? Where's the hook? More on that later.)
If you are smart and lucky enough to find the careers page, the experience is a complete disruption of the image and branding they display elsewhere. This company bleeds aesthetics and chic except when it comes to their careers page.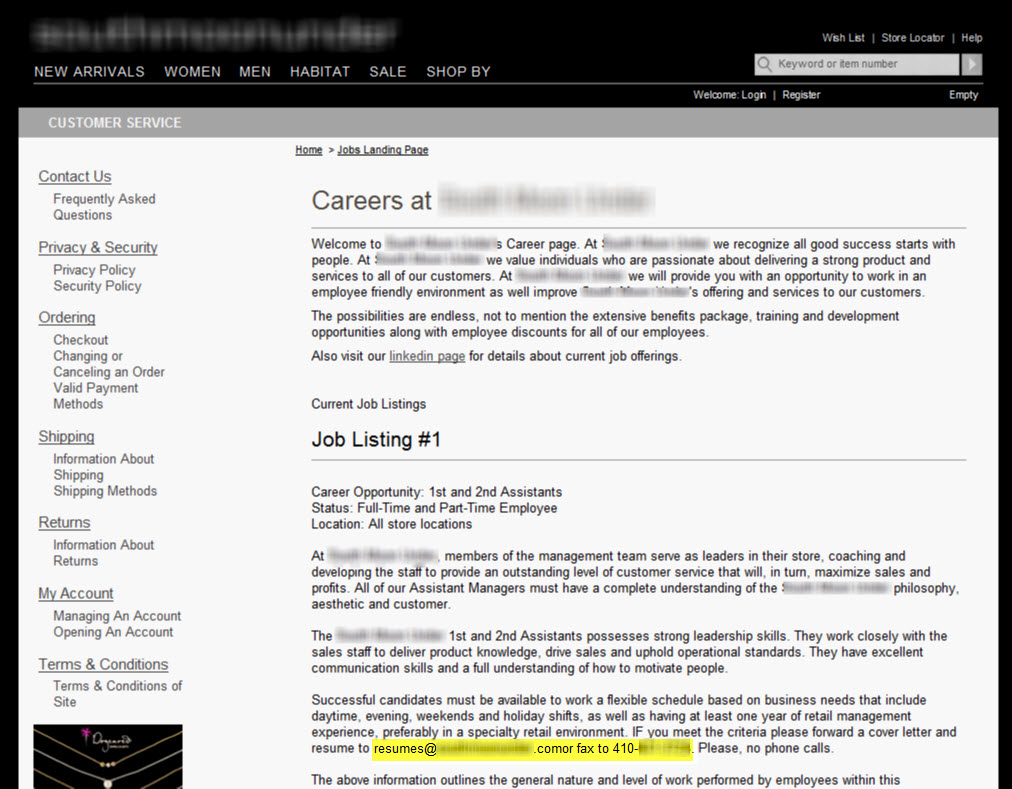 Ugh! Dull! Boring! And that's just the beginning. If I was still interested in applying, I'd have to fax or email my resume to an anonymous address. That might have created the message of an innovation and forward thinking place to work in the 1990s but it poses serious recruitment challenges today. Top performers don't apply to anonymous email addresses because they know that their application has a good chance of getting lost in HRs black hole. Top performers know better than to waste their time waiting for recruiters and HR to contact them. Nearly everyone knows that…except apparently management and HR. So qualified applicants just move on and a great company loses out.
And that's just the beginning why a company using this outdated recruitment strategy will struggle to fill open positions with good job fits quickly.
The descriptions about the open jobs should pop off the page too, just like the clothing does on the rest of the site. This isn't the place to post the job description verbatim from the employee handbook. The company sells a "sophisticated, unique experience" everywhere else except when it comes to recruiting. It's fairly obvious that HR wrote these "help wanted ads," not marketing and PR.  What kind of message does that send to job applicants? Companies must begin to market their careers with the same gusto that they market products and services.
In addition to these job descriptions being dull and boring, they are not optimized for Google and other search engines. How in the world do they expect these open positions to get indexed high in the search engines? Don't they realize that the demographic audience they are seeking to attract relies on the Internet for job searches using smartphones, not the local print medium?
And finally, here's the biggest recruitment gaffe of all.  I mentioned earlier of all the things this company does right when marketing to customers – eye-catching images, engagement using social media, valuable offers, and calls to action that capture customer email addresses.  None of that exists on the careers page.  Any attempt to engage potential employees stopped as soon as the page loaded. There is no attempt to capture my name or join a mailing list for future job opportunities.  The only mention about connecting with the company using social media is to "visit our Linkedin page." And a quick visit to their page shows little activity. The menu in the left column also has nothing to do with careers. Why not add testimonials from current employees, a video highlighting what it's like to work for the company, a message from the CEE, and a few of the most popular benefits?
A lot of lessons can be learned from this case study.  Here are a few of my recommendations:
Companies must begin to recruit job applicants using strategies similar to how they market customers. That includes promoting a job opening just like you announce a new product, service or location. Career pages must be engaging, searchable, optimized, and easy to find.
Companies must learn to use multiple sourcing venues especially when recruiting applicants that span several generations, socio-economic groups, and geo-locations. Limiting sourcing to only one or two media just doesn't attract enough high quality candidates anymore, not when studies show that you need 1,000 jobseekers to see you job opening to get one quality hire.
Applying for a job must be a friendly yet professional experience if the company has any hopes of attracting and hiring quality workers. Sending resumes to an anonymous email address is clunky and reeks of bad customer service.
When a quality applicant knocks these days, you better answer! Quality candidates don't like to wait weeks, or even days, for a response. Good customers don't like waiting for response; neither do qualified applicants.
Build a talent pool. When a jobseeker decides to apply for a job at your company, stop sending them away to online job boards (CareerBuilder, Monster, etc) and social networking sites. Use an applicant processing system that allows you to capture the job applicant's information. You wouldn't send customer who is ready to buy now to Amazon to complete the sale. Why send job applicants to a third party site where you competition is hunting too.
I wrote more about this significant management strategy blunder in two recent blog posts:
Why Don't Companies Recruit Employees Like They Market Customers? 
8 Steps Employers Must Take To Recruit Qualified Workers Quickly