Before the Millennials, Baby Boomers were the most talked about demographic in the U.S. By virtue of their sheer numbers, 78 million strong, Boomers transformed everything from our housing market to Social Security to our workforce. But Baby Boomers, or those born during the post wartime 'baby boom' of 1946 and 1964, have grown up and are now ages 51 to 66.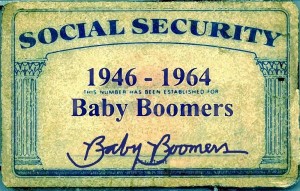 Since the Boomers have previously driven societal trends for the past 50 years, it is likely the Boomers will continue to exert their influence on the way we live and work. The future that the once-idealistic young adult Baby Boomer envisioned didn't quite pan out. Many Boomers are experiencing (or will experience) major life changes like caring for an elderly parent, health changes to them or a spouse, careers that begin or end and many more. These changes have financial consequences and of course will impact their quality of life, their goals and spending habits moving forward.
Let's take a look at where Boomers are now as a group and as individuals.
Some are retired but many are still working
Remember when Baby Boomers were forecast to leave their jobs in mass at their earliest eligibility? The apocalyptic forecast warned us that 8,000 Baby Boomers turned 65 each day … suddenly employers would experience a mass exodus. The reality is that they are staying put. Many are starting second careers and businesses. Sixty one percent reportedly work because they want to, not because they have to. A MetLife Mature Market Institute survey updated those results in 2013, showing that more than half of those boomers born in 1946 have now fully retired—up from 19 percent in 2007 and 45 percent in 2011.
Many Baby Boomers aren't downsizing their homes
Housing is an area that demonstrates some of the distinctions within the Boomer generation. Only about 21 percent of this group is actively downsizing their living space, the highest percentage of any age bracket. And 25 percent of Boomers want bigger homes, perhaps to house all of the possessions that they accumulated and possibly a teenage dependent. Fanny Mae research also notes that many Boomers currently display no hurry to trade in their houses for retirement condos, much to the surprise of real estate professionals. One reason is that Boomers far outnumber Generation X, the chronological successor generation who traditionally have purchased homes from retirees and older generations. Generation X is also only about half the size of the Baby Boomer generation which means fewer buyers. Finally we have the up-and-coming Millennials who unfortunately are not looking to purchase large homes or are able to afford them.
Boomers are retiring in place, close to their families
Baby Boomers are staying where they are, according to Census Bureau data that shows that just 1.6 percent of retirees from that era moved across states lines in 2010. And those who did move are going all over the country, not necessarily moving to a retirement address in Florida. Many who did relocate have returned "home." Staying close to the grandchildren, working at home or caring for someone else may factor into that trend. Compared to a generation ago, Florida claims only about half the share of out-of-state retirees.
Their debt levels are declining but still higher than ideal
After 2008, many households radically pulled back on spending and focused on reducing their overall debt. More than half of Boomers have similarly cut back on spending and reduced credit card debt–one-third even paid off their mortgages, according to a 2011 report by Bankers Life and Casualty's Center for a Secure Retirement. So too did the Baby Boomers, many of whom having been cutting their credit card debt. A recent report from TransUnion found that nearly 1 in 3 Americans at least 60 years old has debt and the average balance is more than $60,000. That's up sharply from 2005 when only 22% of seniors 60+ had debt and the average balance was $40,000. Unfortunately, older Americans are indeed living with more debt as they reach retirement. 
Many are supporting a grown child and elderly parent—at the same time
Pew Research says 15 percent of people in their 40s and 50s are paying to support a grown child and a parent at the same time. Over the next 5 years, 1 in 5 older workers between 45 and 74 say they may need to leave their jobs to care for an adult family member—with more women than men expected to face this dilemma, according to an AARP study released in January. College expenses are also taking a big bite of boomer budgets, as loans and scholarships cover only 31 percent education expenses according to Sallie Mae's study, "How America Pays for College." Nearly 40 percent of the total—is paid by mom and dad.
Health-wise, boomers are not in great shape
Even though they have a higher life expectancy, many Baby Boomers are in worse physical shape than their parents. Obesity, disability, blood pressure and chronic illness are more common. The National Health and Nutrition Examination Survey gathered data on those between the ages of 46 and 64 (average age: 54.1) during 2007 and 2010 and then compared them to their elders, who were previously surveyed at same age range, between 1988 and 1994. The results showed that only 13.2% of boomers rated their own health as "excellent," compared with 32% of those in the older group. Boomers were more likely to have high blood pressure (43% vs. 36.4%), high cholesterol (73.5% vs. 33.8%) and diabetes (15.5% vs. 12%). A full 38.7% of boomers surveyed were obese, compared with 29.4% of their elders. Which means that while they will remain disproportionately in the labor force (compared to estimates of their withdrawal) at some point their health challenges will surely challenge Boomer productivity relative to younger generations anxious to advance